What's in My Therapy Records? (And Should I Read Them?)
---
Short On Time?
Here's two ways to read the article.
Does your therapist take notes during your sessions? Or have you ever heard them clattering away on their keyboard before or after they see you? In either case, you might have wondered, "Just what in the heck are they writing?!"
Maybe we can help. Of course, we can't tell you specifically what your therapist just wrote, but we can probably give you an idea. While therapists take notes for many reasons of their own, there are many kinds of notes they're legally required to take to maintain their therapy license. In this article, we'll describe those notes in detail.
There are two ways you might be curious about your therapist's notes. One is wondering what's in your official case file and whether you should read it. This article addresses those questions by going through the different types of therapy notes in detail.
The other is wanting to figure out what your therapist is thinking and why they made note of something without telling you what it was. To explore these questions, you can read our article, "What Is My Therapist Writing About Me?"
Read on to learn what therapists write down, why they do it, and how you can find out what's in your notes (if you really want to).
Listen to Mark and Stephanie share more about this topic in our podcast.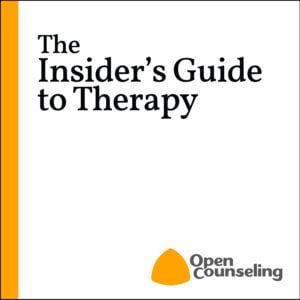 The Insider's Guide to Therapy
What's in My Therapy Records? (And Should I Read Them?)
Like what you hear? Hit the subscribe button in the player above, to keep learning how to make the most of therapy.
What Kinds of Notes Do Therapists Take?
Different therapists take different kinds of notes, and different kinds of therapists take different amounts of notes.
What a cognitive behavioral therapist writes won't be the same as what a psychodynamic therapist writes. One might note down your negative thoughts, while the other might focus on what happened in the dream you just told them about. And a humanistic therapist is less likely than either of these kinds of therapists to take any notes at all.
Learn More About the Different Kinds of Therapists
If you want to learn more about the different kinds of therapists—and the kinds of things they might be focusing on and writing down—you can read our article, "Which Therapy Method Is Right for Me?" In this article, we review some of the most popular therapy methods, give you examples of what they might feel like, and help you explore which one might be best for you.
However, while the content of your therapy notes will vary depending on what kind of work you're doing with your therapist, most therapists keep the same types of notes. Therapy notes usually fall into one of three categories:
Process notes
Progress notes
Intake (or other) assessments
The purpose of these notes is to help your therapist do their job better. They use them to record important information, see if you're making progress on your therapy goals, and figure out the most effective way to work with you.
Therapy notes are protected by HIPAA and other laws (more on those later) and are a confidential, respectful record of the hard work you're doing in therapy—no more and no less.
What Are Process Notes?
Process notes, also called "psychotherapy notes," are the notes your therapist takes when they're in session with you (or immediately afterward). Think of them as "notes to self" your therapist takes to make sure they remember important details they might otherwise forget. These may include:
Names of important people in your life
Other details about those people or your relationships with them
Important dates or years when certain things happened in your life
Specific words or phrases you use that your therapist wants to remember
Meaningful metaphors from your daily life, random associations, or dreams
Questions, ideas, and potential insights your therapist wants to follow up about later
Your therapist might be jotting down something as simple as the fact that your sister's name is Janine or that you left home for the first time in 1998. They might be writing down something they want to ask you, but not right now, when you're in the middle of telling an important story.
We're all more creative than we realize, and we all have unique ways of thinking and talking about our lives. Your therapist may want to note your specific way of speaking because of potential symbolism or meaning in the words you choose—or they may just want to make sure a little bit of your authentic voice makes it into your progress notes (more on those in a bit).
Not all therapists take process notes, and they're treated differently than other notes under HIPAA and other laws therapists have to follow. They're not considered an official part of your medical record.
It's not unusual for therapists to take process notes, and it's not unusual for them not to take them. It's a matter of professional preference.
Just keep in mind that ideally, if your therapist does take process notes, they shouldn't spend more than a few moments on them here and there. If they're writing tons of notes, or writing throughout your entire session, it can make it hard to connect with them, and this is something you might want to talk to them about or ask them to change.
For tips on how to address concerns like these with your therapist, you can read our articles, "What If I Don't Like My Therapist?" and "Should I Break Up with My Therapist?" But all you really need to know is that you don't need to worry about hurting your therapist's feelings. Any good therapist wants to know if something is bothering you. Instead of getting defensive, they'll talk it out with you, and in many cases, they will agree to change their approach and take fewer (or no) notes.
What Are Progress Notes?
Progress notes are formal therapy notes that your therapist writes after your session is over. They're required by law, and they're an official part of your medical record. These days, most therapists enter them electronically, into a safe, password-protected program that meets strict HIPAA requirements for confidentiality and data protection.
If your therapist accepts insurance, progress notes are the main way they prove to your insurance company that the work they're doing with you is legitimate and necessary. (This is why if you want to use insurance, your therapist will ask your permission to send information to your insurance company.)
But therapists have to keep progress notes even if they don't take insurance. Why? Licensing law requires it. In fact, they can lose their license if they don't. (Keeping inadequate notes is one of the most common reasons therapists get in trouble with licensing boards.)
Progress notes are super boring and most therapists hate writing them. They usually follow some sort of formula (such as "Data, Action, Plan") and contain minimal information. That way, if your therapist ever has to share them with insurance—or anyone else—that person won't get any more information than they absolutely need.
What Does a Progress Note Look Like?
Progress notes are typically short and use minimalistic language to describe what you and your therapist did during your session.
For example, if you go into gory detail about an argument you had with your partner, your therapist won't put a transcript of that fight into your progress note. Instead, they...
Progress notes are typically short and use minimalistic language to describe what you and your therapist did during your session.
For example, if you go into gory detail about an argument you had with your partner, your therapist won't put a transcript of that fight into your progress note. Instead, they'll probably write something like, "Client reported verbal confrontation with partner."
And while you might tell your therapist the specific way your partner's words hurt you, and how it made you think of that one time you had a huge fight with your mom twenty years ago, they won't record those details, either.
Instead, they'll probably write something like, "Client was upset by this confrontation." At best, they may add, "Reminded client of fights with parent when younger." (Many therapists won't even write that much.)
Then, at the end, they'll connect what you talked about to one or more of your therapy goals and note whether it shows that you're making progress on them.
For example, they might write, "Client reports being able to use communication skills discussed in prior session and that they are maintaining better boundaries. Will continue to work with client on achieving desired relationship outcomes."
View More
View Less
Some therapists hate writing, period, and even those that love it don't tend to spend time crafting beautiful (or even grammatically correct) sentences in your progress notes. It just doesn't make sense for them to. It doesn't help you—or them—and it could even hurt.
The purpose of the notes isn't to tell your story in detail. They're literally only there to track your progress. They help your therapist keep tabs on how therapy is going, and they can also help you or them prove to someone else—should you ever need to—that your therapy isn't just a bunch of pointless chit-chat, that you really are working on something, that your therapist has a meaningful plan of action, and that it's actually helping you. That's it.
What's an Intake Assessment?
An intake assessment is a record of all of the information you share with your therapist during your first couple of sessions with them. It will usually be the longest note your therapist writes. Many therapists who don't otherwise take notes while they're in session with clients take them during intake.
What and how much your therapist puts in your intake assessment depends on the type of therapy they practice, whether they are in private practice or work for an agency, and other factors. In general, it will include information about your background, the issues you want to work on, what in your life led up to those issues, and what you hope to accomplish in therapy.
What Questions Might My Therapist Ask Me During Intake?
The questions a therapist asks at intake vary depending on their style and method. However, most assessments cover at least a few of the same basic points. Typical questions you could be asked at intake include:
What brings you to therapy at this time?
What do you hope to get out of coming t...
The questions a therapist asks at intake vary depending on their style and method. However, most assessments cover at least a few of the same basic points. Typical questions you could be asked at intake include:
What brings you to therapy at this time?
What do you hope to get out of coming to therapy?
Have you had therapy or other mental health treatment before? If so, did it help?
Are you currently experiencing any mental health issues or symptoms? If so, how long have you been having these issues or symptoms? When did they begin?
Have you ever been diagnosed with a mental health condition? When and by whom? Do these mental health symptoms or conditions run in your family?
Do you have a history of trauma? If so, what kind, and when did it occur? Have you received prior treatment for it or addressed it in any other way?
Do you have any current significant medical or physical health issues? Are you currently taking any medications? If so, who is the prescribing doctor?
Do you use alcohol or other substances? If so, how much and how often? Have you ever had issues with substance use or gone to substance abuse treatment?
Are you employed? If so, are you satisfied with your job or are there issues with it? How would you describe your current level of functioning at work and in general?
Do you have any major stressors in your life? If so, what are they? Are you currently having any financial, legal, or social problems?
What are your relationships like? Who are the most important people in your life? If you're in a serious romantic relationship, how long have you been in it? How is it going?
What are your spiritual or religious beliefs, if any? Is spirituality a source of strength in your life or are any spiritual questions or issues causing you anxiety or distress?
What are your hobbies, passions, or interests? Do these or other activities help you manage stress and your mental health? Have you stopped doing any of them recently? If so, why?
These are common intake questions, but you may not be asked all of them. However, you should expect your therapist to at least ask what brings you to therapy and what your therapy goals are. They will probably also want to know at least a little bit about your history.
The purpose of these questions is to help your therapist get an idea of how well you're doing, what kind of help you need, and what supports you may or may not already have in your life.
View More
View Less
The intake assessment is different from anything else your therapist writes. Not only is it way longer—it can be anywhere from a few paragraphs to a few pages long—it actually kind of makes sense when you read it.
Unlike process notes, an intake assessment isn't just weird scribbled abbreviations and shorthand that only your therapist can understand. Unlike progress notes, it isn't just a few terse sentences. It's a narrative—in other words, a story with a beginning, a middle, and an end.
Trainee therapists who haven't yet learned they're really meant to be writers love them for this reason. Depending on whether your therapist is also an aspiring writer, they might use full, flowing sentences and nicely proportioned paragraphs in your assessment. They're telling your story, after all.
Not that this is the point (or that all therapists bother with making them nice to read). The assessment part of the assessment is that as your therapist writes out all this stuff about you, they start to learn where you're coming from and can connect some preliminary dots about you.
It can help them understand what isn't working in your life (and what is working) and where that problem might have started. This can help them formulate a plan of action to address those issues in therapy with you.
What's a Treatment Plan?
A treatment plan is an important document that informs how your therapist writes their progress notes.
Not all therapists write treatment plans, but many therapists are required to do so by state licensing laws.
When therapists are required to make treatment plans (or when they choose to create them because they find them helpful), they usually write them after finishing your intake assessment.
What Documents Are in My Electronic Therapy Record?
You may have looked at, signed, and returned a lot of forms when you started therapy. All of those go into your record, as do many other documents. Your record may include any or all of the following:
Your intake assessment
Your demographic information
Your emergency and other contacts
Releases of information (if you've signed any)
Your treatment plan, including any updates to it
Your progress notes (usually one for each session)
Your diagnosis and support for it (if your therapist gives you one)
Any policy documents or legal forms you signed at the start of therapy
The results of any other assessments or tests you do with your therapist
Documents specifically for your insurance company (if you're using insurance)
Any safety plans or other documents related to crisis response or prevention
Some of these may be kept as physical documents in a physical file (especially any printed documents you've signed). Some therapists still do all of their documentation on paper, but they're increasingly rare. These days, most therapists keep most of these in a HIPAA-compliant, password-protected electronic medical record.
Treatment plans aren't really interesting or fun to write, but they might be interesting to read, or at least glance through, because they're a formal record of your therapy goals.
In general, treatment plans list the problems or issues you want to address in therapy, what interventions your therapist plans to use to help you achieve those goals, and how they will measure your progress on those goals.
The language in a treatment plan is usually formal, stilted, and a little weird. If there's anywhere in your record you're likely to find the most therapy jargon and lingo, it's your treatment plan.
Unlike your assessment and progress notes, the treatment plan is a document that gets updated every now and then as your work with your therapist develops. In theory, if your work with your therapist changes, or your goals change, your treatment plan changes.
Your therapist uses what's in your current treatment plan to determine what they put in their notes. Progress notes are supposed to show how what you did in any given session addressed one or more of the goals on your treatment plan and whether you're making progress on them.
How Is My Personal Information Protected? Can Anyone Else See My Notes?
"Wow," you might think. "My therapist has a lot of personal information about me in their notes. Is all of this information safe? Can anyone else see it?"
Good therapists take great measures to keep your protected healthcare information (PHI) safe. Not only are they required by state licensing law to protect your information, they're also subject to a federal law you may have heard of: The Health Insurance Portability and Accountability Act of 1996 (HIPAA).
HIPAA in a Nutshell
Despite popular misconceptions, the fact you're protected by HIPAA doesn't mean that a healthcare professional can't ask you about your personal health information.
It means that, except in a few rare cases when your or someone else's safety is at stake, they can't tell anyone else your personal health information without your permission....
Despite popular misconceptions, the fact you're protected by HIPAA doesn't mean that a healthcare professional can't ask you about your personal health information.
It means that, except in a few rare cases when your or someone else's safety is at stake, they can't tell anyone else your personal health information without your permission.
In other words, HIPAA isn't about the conversations you have with your health professional. It's about the conversations they might have—if any—with someone else about your care.
To comply with HIPAA, your therapist has to:
Make sure physical (paper) PHI is protected by lock and key (and otherwise);
Make sure electronic PHI is protected by password, encryption, and other means;
Release your records (assessments, treatment plans, and progress notes) to you if you request them; and
Not share your PHI with anyone you haven't given them signed permission to share it with, except:

When you disclose child or elder abuse (which they are required by law to report),
When you tell them about actions or plans that place you or others at risk of harm,
When they receive a court order that requires them to release your information, or
When the information is shared within their agency with other clinicians who have a professional reason to know (and the permission and release forms you signed apply to the agency as a whole, not just that particular therapist).
Note that therapists will also need to share your information with your insurance company if you want to use insurance to pay for therapy. Insurance providers will only cover therapy if they can access and review your records.
However, your therapist still has to get your approval and signed permission first. But if you refuse to give permission, and they can't release your records to insurance, then your insurance will probably refuse to cover your care.
View More
View Less
All of these HIPAA requirements mean that it should be difficult for anyone to physically access your information without your therapist's knowledge or permission. A thief with a hacksaw or a hacker with good cracking skills might have a chance, but they should still have a hard time.
Not that anyone is likely to go after your information in this way. Usually, the only way someone else would ever see your PHI is because you or your treating professional shared it with them. And good therapists (and therapists who care about keeping their licenses) take any disclosure of your information very seriously.
Aside from the required exceptions to confidentiality noted above, the only reason a good therapist would want to share your information with anyone else is if you wanted them to or if they thought it would help you get the care and treatment you need from another provider.
A therapist might want to share your information with another professional if they refer you to another level of care or to another therapist. Even more rarely (and only if you ask), they might agree to disclose your information to a family member or loved one who is involved in and supportive of your treatment.
However, the important part to know is that your therapist needs your permission to be able to share your information with any of these people. Without your permission, or a justifiable exception to protect someone from harm, sharing your information is a HIPAA violation.
Your admission paperwork probably allows your therapist to share your information within their own agency, but this still would only be done if someone else in their agency was working with you and had a good clinical reason to need your information. Even then, your therapist would probably still ask you first. They can get in trouble if they don't.
The Bottom Line
The personal, private health information contained in your therapy record is protected from disclosure or misuse by various laws. Good, ethical therapists who value their careers take those laws seriously. They take great measures to protect all of your information and only release it when you want them to or an exceptional circumstance requires them to.
Can I Read My Therapy Notes? Should I Read Them?
One of the requirements of HIPAA is that your therapist has to release your official therapy records to you if you formally request them.
The only exception to this is if your therapist sincerely believes seeing your notes could cause you serious harm. In that case, they could try to refuse your request. Still, the law requires your therapist to justify any denial of access to your records. If they try to deny access and you challenge them, especially with a lawyer's help, chances are good they'll lose.
So, yes, in most cases, you can read everything in your official file, even if your therapist doesn't want you to.
(Note that a therapist's personal, usually handwritten process notes are not considered to be part of your official record and your therapist is not required by HIPAA to let you see them. Still, many therapists are willing to share these notes with their clients upon request even though they legally don't have to.)
The real question, then, is should you read your therapy notes? Do you want to?
The answer might seem obvious. "Of course!" you might say. "My notes are about me! It's my legal right to read them! I can finally find out what my therapist has been writing about me all this time. Why would I not want to read them?"
Well…
There are good reasons to read your therapy notes, but there are also good reasons not to (and good reasons a good therapist might not want you to read them—or might suggest you don't).
The good: By reading your notes, you can gain more insight into your work in therapy. You can reflect on the progress you've made and better understand the way you and your therapist work together. You might walk away from reading your notes with more respect for your therapist and greater trust in them—and in therapy as a whole.
The bad: The language in your notes might be confusing or hurt your feelings. It might make you feel diminished, or reduced to a diagnosis, problems, or symptoms. You might feel insulted by how short and half-assed some of the notes seem to be. You might misunderstand how your therapist really sees or feels about you by reading all those problem-focused notes. As a result, you might walk away with less trust in your therapist and less respect for them.
What Do All Those Weird Words in My Notes Mean?
Good therapists try to limit the jargon they use when they speak to you. But they don't hold back the same way in their notes. So, if you read your notes, you may be confused (or possibly even offended) by some of the words in them.
Let us help. We can't possibly go over every weird therapy term your therapist might use, but we can at least try to clarify a few that often sho...
Good therapists try to limit the jargon they use when they speak to you. But they don't hold back the same way in their notes. So, if you read your notes, you may be confused (or possibly even offended) by some of the words in them.
Let us help. We can't possibly go over every weird therapy term your therapist might use, but we can at least try to clarify a few that often show up in notes. These might include:
Other funny terms that might throw you for a loop include "denial," splitting," and other words that describe psychological defenses. For more about defenses, including a whole list of terms therapists use for them, you can read our article, "Why Is Therapy So Hard?"
You might also notice if your therapist mentions "transference" or "countertransference," which are relationship clues psychodynamic therapists use. To learn more about transference, you can read our article, "Transference: Why This Little-Understood Concept Is So Important to Therapy."
Finally, note that "narcissism" doesn't always mean the same thing in therapy notes that it does in popular culture. Yes, it can refer to a personality disorder, but it can also be used in reference to things everyone experiences. "Healthy narcissism" refers to everyone's need to be seen, acknowledged, and liked for who they are. "Narcissistic injury" is just fancy therapist-speak for when someone's ego gets bruised.
These are just the tip of the iceberg of therapy terms you might find in your notes. We point out these particular terms because we know some clients have felt really weird after reading them. They seem cold and objectifying. Just trust that they're a kind of therapy shorthand, and that your therapist sees you as more than just a person with "flat affect" who's "oriented x3" and wearing a "wrinkled shirt."
You are more than what appears in your progress notes—even to your therapist.
View More
View Less
To figure out whether you should read your notes, first ask yourself why you want to read them. Then, talk to your therapist about it. Tell them you want to see your notes—and why. Then, they can help you figure out if it's worth it.
Idle curiosity isn't a great reason to want to see your notes. Nothing is wrong with curiosity—as far as we're concerned at OpenCounseling, it's a virtue. But we can almost guarantee you that the notes in your official record won't satisfy your curiosity (or answer most of your questions).
For one thing, your official therapy notes probably aren't going to give you major insights into yourself or into the mysteries of how therapy works. They're not going to give you an accurate portrait of how your therapist sees or feels about you, either (their genuine views of you are much more holistic, warm, and human than what their notes probably show).
Think of it this way: your progress notes aren't about you; they're about the process of therapy. They're not there to tell a beautiful story. They're there to document how and whether therapy is helping—no more and no less.
To protect your confidentiality, your therapist limits the amount of detail they put in your notes. In other words, they leave a whole lot out—including most of the stuff that would actually be interesting to you.
What your notes can actually show you is what your therapy goals are, whether you've been making progress on them, and the specific techniques your therapist has been using to help you. So, it may be worth reading them if you're trying to make an important decision about whether to quit therapy or try a different approach in your sessions.
If you go into it knowing what to expect—that progress notes look and sound weird, present a limited picture of you, and don't reveal your therapist's full range of feelings about you—then you're a lot less likely to have a negative reaction to reading them, and may get something positive out of doing it.
But if you don't have a particularly good reason? Our advice is to spend your time reading something more interesting. Like the back of your shampoo bottle.
Where Can You Find a Therapist?
Conclusion
If you ever read your official therapy notes, you may be disappointed by how boring and unenlightening they are.
Rather than an eloquent, poetic summation of the beautiful mystery that is you, your progress notes may be terse and flat and seem to reduce you and therapy to much less than it feels like it is. The language in them will likely feel cold and clinical and contain very little of the aliveness and warmth you feel when you're with your therapist.
The reason notes seem colder than therapy feels is because your therapist is writing them for agencies, bosses, and insurance companies, and going by a professional format or script that feels cold, even to them. In addition, the terse, minimalistic language protects your confidentiality in the rare case someone else (like an insurance company) ever reads them.
There can be good reasons to read your notes—in particular, wanting to review your progress in therapy—but it's unlikely to answer the deeper questions you probably have about therapy or about yourself.
The things therapists record in their notes are just one dimension of how they see you—in the same way a doctor's note might focus only on an injured knee they're treating. Of course, that injury or symptom isn't all of who you are.
You can get a much fuller picture of your therapist's perspective, and of how therapy is going, by talking to them about it. Your therapist can tell you the things you really want to know—including the deep stuff.
Some of the questions you might have about what your therapist is writing—and why—might have nothing to do with the tangible notes they produce that show up in your official therapy record (and that we've spent this article describing).
Instead, you might wonder about why your therapist picked up a pen the exact moment they did and what it means they're thinking. If you're curious about your therapist's thought process and why they find certain details important, you can read our other article on therapy notes: "What Is My Therapist Writing About Me?"
You might be surprised by how open your therapist is when you ask. Most therapists are happy to explain why they're taking notes or doing anything else they're doing. Most are willing to adjust their note-taking practices, and many are willing to show you even the notes HIPAA doesn't require them to show you (their handwritten process notes).
So, if you're not sure why your therapist is taking notes and want to know what's in them—or you just wish they'd take fewer notes because you're feeling disconnected from them—the solution is the same: talk to your therapist about it. You'll be glad you did.
---
Stephanie Hairston
Stephanie Hairston is a freelance mental health writer who spent several years in the field of adult mental health before transitioning to professional writing and editing. As a clinical social worker, she provided group and individual therapy, crisis intervention services, and psychological assessments.