Why Is My Therapist Silent? (Help! It's Weirding Me Out)
---
Short On Time?
Here's two ways to read the article.
One of the most commonly asked questions about therapy is, "Why is my therapist so quiet?" You may have asked that question yourself.
Why does your therapist just sit there, staring at you, waiting for you to decide what to talk about? Why do they not respond to what you say right away? Why do they just look at you in silence for what feels like forever?
We have answers. Your therapist might respond with silence for many reasons, most of them good. The only thing it seems they missed is taking the time to explain why they're so quiet sometimes.
Read on to learn more about one of the most awkward things you have to get used to in therapy: your therapist's use of silence.
Listen to Mark and Stephanie share more about this topic in our podcast.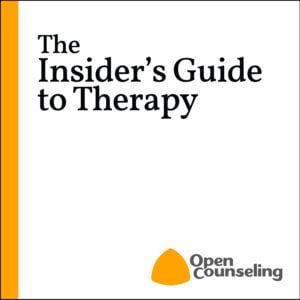 The Insider's Guide to Therapy
Why Is My Therapist Silent?
Like what you hear? Hit the subscribe button in the player above, to keep learning how to make the most of therapy.
Why Is Silence So Awkward?
In everyday conversation, you take turns. You talk about something that happened to you, then your friend gives you their reaction. You share your thoughts about a topic, and your co-worker responds with theirs. You say, "I love you," and your partner says "I love you" back.
This rhythm is so typical that it's second nature. Researchers have found that across many cultures and languages, the span of time between one person's statement and another's is only milliseconds long.
There are exceptions—both culturally and circumstantially—but it usually feels rude or weird if someone responds to you with silence.
In fact, you're likely to interpret that silence as meaning there's something the other person doesn't want to say. Maybe they don't agree with what you said but don't want to hurt your feelings. Maybe they don't like you. Maybe you did or said something wrong and they're upset. Or maybe something's wrong with them.
These assumptions about another person's silence aren't always right, but they're not always wrong, either. Most people find looking at each other in silence awkward and will do just about anything to avoid it—including saying something that's barely less awkward than the silence.
When things get quiet in therapy, your natural instincts and anxieties kick in. You might worry that your therapist disapproves of what you've just said or wonder if they even like you. You might feel like they're testing you to see what you say or do next.
You might get really frustrated or even start to resent them for it—"Isn't that a nice gig," you might think, "to get paid so much money per hour just to sit and look at me."
Or, you might say to yourself, "This is stupid! I'm going to leave and tell everyone I know what a waste of time therapy is."
But please don't quit just yet. Your therapist is quiet for a reason, and maybe learning why can help you appreciate what makes therapy unique—and uniquely valuable.
How Is Talking to a Therapist Different from Talking to a Friend?
Another question you might have about therapy is why it's different from talking to a friend or loved one. If you have people you trust enough to tell the intimate details of your life, do you really need a therapist?
Well, you don't always need a therapist, but having other people you're close to is never the reason you don't need one. The relationship you have with a therapist is different from the relationship you have with anyone else.
And one of the ways it's different is how—and how often—your therapist uses silence.
Therapy Versus Everyday Conversation
One of the reasons therapy can feel awkward at first is that, while it does consist of talking to someone, you talk to a therapist for different reasons than you talk to anyone else.
The goals of everyday conversation include:
To tell a good story
To exchange information
To vent frustration or anger
To strengthen a social bond
To get to know someone better
To express love, caring, or concern
To learn what someone really thinks
To check in on someone you care about
To make you or someone else feel better
To make you or someone else feel worse
To laugh or to make someone else laugh
To hear what someone else has to say
On the other hand, the goals of talking to your therapist include:
To learn what your story is
To hear what you have to say
To get to know yourself better
To learn what you really think
To learn what you really feel
You get the idea. Therapy is about you and your relationship with yourself. While you can have an authentic and deeply meaningful relationship with your therapist, their goal isn't for you to get to know them, but to help you get to know yourself better.
Unlike anyone else you know, a therapist won't expect a turn. They won't be waiting to jump in with their opinion or to tell you how their experience was different. It isn't about them.
A therapist uses silence intentionally as a tool. Wise use of silence in therapy can increase your chances of having profound insights and powerful emotional experiences.
By quietly and attentively listening to you, a good therapist helps you go deeper than you do in everyday conversation. Friends and family may be willing to talk about intimate subjects, but they usually shy away when the feelings those topics bring up get too difficult or stressful.
A therapist can go with you the whole way—follow what you're feeling or thinking to as deep a place as you're willing and able to go with them.
How Do Therapists Use Silence?
Therapists use silence to help you connect with yourself.
When you sit in silence, you can observe exactly what you're thinking and get some distance from it. You can catch weird, irrational thoughts more easily than you can when you're multi-tasking or chatting or distracting yourself.
One of the great things about therapy is that you're not alone in the silence. Your therapist's presence can help you find comfort and even inspiration as you deepen into quiet moments together.
This process of learning to value and appreciate silence can help you learn how to enjoy and use it outside of therapy, too. It can help you learn how to stay calm and find your center when things get confusing or difficult. It can help you improve your intuition and make wiser decisions.
How Therapists Use Silence in Therapy
Not all silences in therapy serve the same purpose. When your therapist is silent, it might mean any of the following things:
They want you to set the tone, pace, and topic for the session.
They want you to tap into your own wisdom and inner resources.
They are listening carefully and want to make sure you feel heard.
They want to make sure that you can see and hear yourself clearly.
They don't want to disrupt an important moment or emotional process.
They don't want to unintentionally influence your thoughts, feelings, or ideas.
They want to make sure that they're not cutting in before you finish your thought.
They want to honor an insight or moment of clarity you just had and let it resonate.
They want you to reflect on something that just came up so you can see what you really think about it.
They want to reflect on something that just came up so they can see what they really think about it.
They are still processing what you just shared and want to make sure their response is helpful instead of harmful.
They want you to sit with an emotion that just came up and feel it deeply instead of trying to push it away or bury it under more talking.
They want you to start trusting yourself and your own intuition instead of looking to them for answers—answers they may not have anyway.
They believe you'll get to deeper, more interesting places if you find your way there yourself (and they probably don't know how to get there without you anyway).
Most therapists genuinely believe they don't have the answers to the questions or challenges you face—however, they believe you do. They see their job as helping you find your own answers, and they know that silence can help you do that.
Sitting in silence allows a lot of things to rise up inside you—thoughts, feelings, and memories you might not normally experience. And that is what your therapist is hoping you'll talk about.
That's why one of the ways they might break the silence is by asking, "What are you feeling?" You may not know the answer right away, but the only way to find that answer is through sinking more deeply into yourself in silence.
Another way your therapist uses silence is to nudge you into taking the lead. You may be used to giving way to others in your daily life or letting them dominate the conversation. Therapists want to make sure that doesn't happen to you in the therapy room.
Therapists are trained to be more aware of the impact of their speech than most people, and they know that they can unintentionally direct you away from something important by saying the wrong thing at the wrong time.
Therapists don't want to inadvertently shut you down. This is so important to them that they learn how to sit in the awkwardness of silence in school and in supervision. They learn how to tolerate long pauses themselves so they can use their capacity for silence to help their clients.
Trust us, your therapist knows it's awkward for you, and it's often awkward for them, too. They don't like watching you squirm, and they probably wish they could say more. But they're willing to hold back to make sure your therapy session is productive and helpful—and stays focused on you.
Why Didn't My Therapist Explain This to Me?
Therapists are imperfect, and they make mistakes. Some of these mistakes are a big deal. Some of them might even be major enough to be grounds for you to file a complaint.
However, other mistakes therapists make aren't as big of a deal. They don't cause harm so much as they make therapy more confusing or a little less helpful than it could be.
This kind of minor mistake tends to come from a therapist who just needs a little more experience, but it can come from an experienced therapist, too—someone who's been at the therapy game so long they've forgotten that there's one small thing they could do to help you.
One of the small mistakes many therapists make is not taking the time to explain how therapy works. They may feel like their time-tested therapy techniques are so obvious they don't need any explanation, forgetting how off-putting they can be for people who are unfamiliar with them.
Therapists have spent so long training, learning, and honing their craft that they can forget how weird therapy can be, especially when you're not used to it. So, they don't explain what they're doing or why, leaving you confused or frustrated.
Therapists are trained not to answer certain questions directly. They learn in school that it's unethical for them to give advice or to push their own agenda in therapy. They are taught that it's normal and professional for them to respond with silence in many circumstances.
Ideally, they'd explain all of this to you. They don't always do that, though, which is why it's perfectly okay—and even good—to remind them. Give them a nudge by asking, "Hey, why did you just do that?" or "Why didn't you answer my question?" or "Why are you so quiet?"
A good therapist will always welcome questions about how therapy works and be willing and able to answer questions about their particular approach.
What Should I Do When My Therapist Gets Quiet?
In addition to simply asking your therapist why they're not saying anything, there are things you can do when your therapist gets quiet that will help you get a lot more out of your sessions with them.
One option? Enjoy it. How often can you and another person just sit and awkwardly look at each other for a few minutes without there being any social fallout? And when you learn to enjoy the experience, it stops being awkward anyway!
Learning to enjoy the silence in therapy helps you learn how to enjoy it outside of therapy as well. It helps you build inner strength and develop a greater tolerance for uncertainty and anxiety. It helps you learn how to sit with uncomfortable feelings without reaching for something unhealthy to take the edge off.
Letting yourself just sit there with your therapist instead of saying something right away helps you practice not rushing in to try to put others at ease. It helps you learn that you don't have to be the one who keeps the conversation going. You don't have to sacrifice yourself for the comfort of others by oversharing and saying things you later wish you hadn't said.
Questions You Can Ask When Your Therapist Gets Quiet
When you find yourself sitting in silence with your therapist, one way to get the session moving again is to ask a question. Consider asking any of the following:
"Is there a reason you're being quiet?"
"Have you noticed anything you think we should explore further?"
"I'm drawing a blank. Do you have any suggestions for what we can talk about?"
"Sitting here in silence is making me feel anxious. Can you help me understand why?"
You can also ask yourself some questions to help you reflect and come up with something to talk to your therapist about. Consider asking yourself any of the following:
"Did something important just happen?"
"Is it possible I know the answer to my own question?"
"What do I wish my therapist would say?" (Then maybe tell them that.)
"What do I think my therapist is thinking?" (Then maybe ask them if they are.)
"Am I feeling something now that I wasn't feeling a moment ago? If so, what?"
"Is what I just said authentic? Is it what I really think or believe? If not, what is?"
Consider any moment of silence your chance to shine. It's your opportunity to ask that question you've been burning to ask. It's your chance to change the subject to something that feels more important to you. It's your time to decide what to talk about—or not talk about—or whether, in this moment, you want to talk at all.
Another useful thing you can do when you're not sure what to say is to check in with your therapist about how therapy is going. If you feel frustrated, or stuck, it's okay to say that. In fact, it's more than okay. Exploring why you feel stuck can lead to breakthroughs in therapy.
It's also great if you can find the courage to tell your therapist how you're feeling about them. Maybe you're frustrated or angry that they're just sitting there looking at you. Maybe you're worried they don't like you or are judging you.
But don't worry—not only will your therapist not mind you telling them you're pissed (or scared or sad or excited or hopeful), they'll appreciate it. Because it's in exploring how you feel about your therapist that you can experience some of your biggest insights in therapy.
Where Can You Find a Therapist?
Conclusion
One of the weirdest and most difficult things to get used to in therapy is how often the room gets quiet.
You may enjoy comfortable silences with loved ones while you're engaged in shared activities with them, but it's rare to just sit in silence when there's nothing to do but talk—unless you're in therapy.
Why in the world would you waste so much time in silence in talk therapy? Surprisingly, there are good reasons for it. Therapists use silence intentionally as a tool to help you get more out of your sessions.
Why Is My Therapist So Quiet?
Your therapist probably has a reason for being quiet, and it's probably not the reason you think.
While silence in everyday conversation can signal discomfort or dislike, your therapist's silence doesn't. It's different. It's an expression of caring and respect. Your therapist is quiet because:
It helps them hear you better.
It helps you hear yourself better.
It encourages you to take the lead.
It gives you an opportunity to reflect.
It keeps you focused on your inner world.
It allows deep emotions and insights to arise.
It prevents them from influencing you too much.
Sitting in silence opens the door to let in thoughts, feelings, and memories you might normally avoid. And that is what your therapist is hoping you'll talk about.
These thoughts and feelings you normally suppress are the goldmine of therapy, because they help you get past your defenses to the treasures of your true self. Spending some time in silence allows you to better mine and make use of them.
So, when your therapist is silent, try sitting with them in the silence for a moment. See what comes up. If you feel stuck, or like this isn't accomplishing anything for you, tell them that.
Or you can ask them a question. You can ask anything you want. You can ask why they're being quiet, whether you should revisit something from last session, or what they think about a dream you just had.
But you don't even have to do that. You can just enjoy it. Therapy may well be one of the only places in your life where you're not under pressure to entertain someone else or make them feel better.
Learning to enjoy the silence in therapy can help you learn how to enjoy it outside of therapy, too. It can help you learn how to endure uncomfortable feelings or awkward situations without sticking your foot in your mouth just because you couldn't bear the silence.
It feels awkward at first to sit in silence with your therapist, but there's no place that's easier to practice keeping your peace than in therapy.
Ideally, your therapist would take a moment to explain their use of silence and other unfamiliar aspects of therapy to you. But we know that not all therapists remember to do that, which is why we're taking the time to answer some of the questions you may have about therapy.
We hope this article has helped make therapy feel a little less weird, and we really hope you'll stick with it. Therapy is amazing. It can change your life. It can become a true sanctuary, a place and time where you can fully be yourself, where you can talk as much as you want about the things that matter most to you—and enjoy some moments of profound, reflective silence, too.
Where Do I Look for a Therapist?
---
Stephanie Hairston
Stephanie Hairston is a freelance mental health writer who spent several years in the field of adult mental health before transitioning to professional writing and editing. As a clinical social worker, she provided group and individual therapy, crisis intervention services, and psychological assessments.