About OpenCounseling Affiliate and Provider Relationships
---
Some of the providers you'll find in our listings contacted us and asked us to list them on our database. Others are people or organizations we have found in our independent research. Some are providers who give us a commission when people find them through our site. We want to explain our relationships with these partners so you can make fully-informed decisions when you use our site to choose a provider.
OpenCounseling has affiliate relationships with the owners of the websites BetterHelp.com, Regain.us, and TalkSpace.com. This means that when you click on a link to these sites from OpenCounseling, and then subscribe to their services, we earn a commission. These can be links on the home page, in articles, or on the profiles of individual therapists who offer counseling through these partners. These business partnerships provide essential financial support to OpenCounseling that makes what we do possible.
These affiliates help us fulfill our mission of making counseling affordable to all. Online counseling and "telemental health" is a growing field and can be a great option for people in a variety of situations, including people who live in rural areas with limited providers. BetterHelp and TalkSpace are the two largest online providers. We have tested their services and some members of our team have used their services for their personal counseling needs.
While we believe these are good choices for some of our visitors, it's important to know these are not the only choices and are not right for everyone. We list over 10,000 other providers who may be a better fit for you. We do not make any commission when you see any of these other providers and we do not charge them to appear in our directory. We always put public service before revenue generation.
Maintaining Objectivity
Our aim is to help you make the best decision for your mental health care needs. This means that even though we support our site with revenue from affiliate links, we apply a strict set of ethical standards to how we handle our affiliate relationships.
We never accept gifts from vendors with whom we have an affiliate relationship. When we test their services, we never inform them ahead of time. We pay for our subscriptions to their services from our own pockets and do not accept trial or free subscriptions as compensations for listing or writing about their services. We base what we write about them on our own experiences using their services. We want to make sure our experience of them will be like your experience of them so that we can write about these experiences accurately and objectively.
Throughout our site you will notice disclosures of our relationships with our affiliate vendors. When you see a provider listed in our directory who may give us a commission if you sign up for their services, that provider will be listed as "Ad," "Advert," or "Sponsored." You will also see reminders in articles of our vendor relationships to help you determine which providers have a relationship with us.
Making Informed Decisions
We take our mission very seriously and hope that each article helps someone find the help they need. That said, we are not perfect and what you find in our articles may not be right for you. Before choosing a provider or acting on any article you read on our site, we ask that you please contact a mental health professional. They will be in the best position to give you guidance unique to your circumstances.
About Our Directory of Affordable Counseling Providers
If our directory of providers you will find counseling providers who are included based upon our research, and some that are from affiliate partner BetterHelp. We do not receive any sort of direct financial incentive from our approximately 10,000 researched providers. If you choose one of the providers who offer service through BetterHelp, however, we do receive a commission from BetterHelp. This section helps you understand these two types of providers that appear in our directory.
How Our Researched Providers Are Included
The providers that are based upon our research are sourced from multiple sources, including the internet and local providers. Some are submitted by users or providers themselves. Our basic criteria for inclusion for a provider are that:
They must be a 501-C non-profit in the U.S. or a Registered Charity.
The agency must offer outpatient counseling.
U.S. therapists must be state-licensed/registered (pastoral counseling is OK where allowed).
The practice is in the United States, Canada, U.K., New Zealand, Australia or South Africa.
Our mission is to make counseling available to all, and that is the overriding principle we use to include providers. Particularly in rural areas or areas where there is poor support for affordable mental health, we may broaden our criteria to give our users more choice. We reserve the right to make the final determination if a provider should be included or excluded. We also reserve the right to remove providers at our discretion.
It is important to know that we do not ask or accept payment from these providers to be included in our directory. Additionally, if you choose to get treatment from these providers, we do not get any sort of commission from the provider.
We also have a user-feedback system that lets our users give us feedback about the providers which we use to update our provider list. Our users are an important part of making OpenCounseling work for everyone.
For each provider, we create a description that lets our users know what the provider is, who they offer services to, and what sort of payment is accepted. We base this information on either the website or information provided us directly from the providers.
If you are a provider, and wish to be excluded from our database, please contact us here. We process removal requests within 2 business days.
If you are a provider, and want to be added to our database, please visit this page.
How Our Affiliate Providers Are Included
These providers are included based upon information we receive from BetterHelp (owned by Teledoc, Inc.). Along with the name and license information, we also display other pertinent information such as their self-provided description and reviews that their clients have provided. For some providers, we may highlight a review excerpt. The full original review from which the excerpt is taken is available in the provider's profile. If you have any questions about a particular provider, please contact that provider directly, or contact BetterHelp support.
How We Show Results for a Search
We show both researched providers and affiliate providers in searches (see Figure below). The affiliate providers will be marked as such and be signified with "sponsored." This helps you determine which of the listed providers we have a material connection to. Depending on the page you are on, the sponsored results will appear in different positions. This may vary slightly based on several factors, but you will always be able to clearly see which listings are sponsored by noting which ones are marked as "ad," "advert" or "sponsored." Additionally, sponsored listings will have a  different colored bar to the side to further differentiate them from researched providers.
BetterHelp-affiliated providers will be shown in an order based upon their state of licensure and approximate number of reviews. Depending on how you searched for providers, our researched providers will either be sorted randomly or based on ascending distance from the point you search for.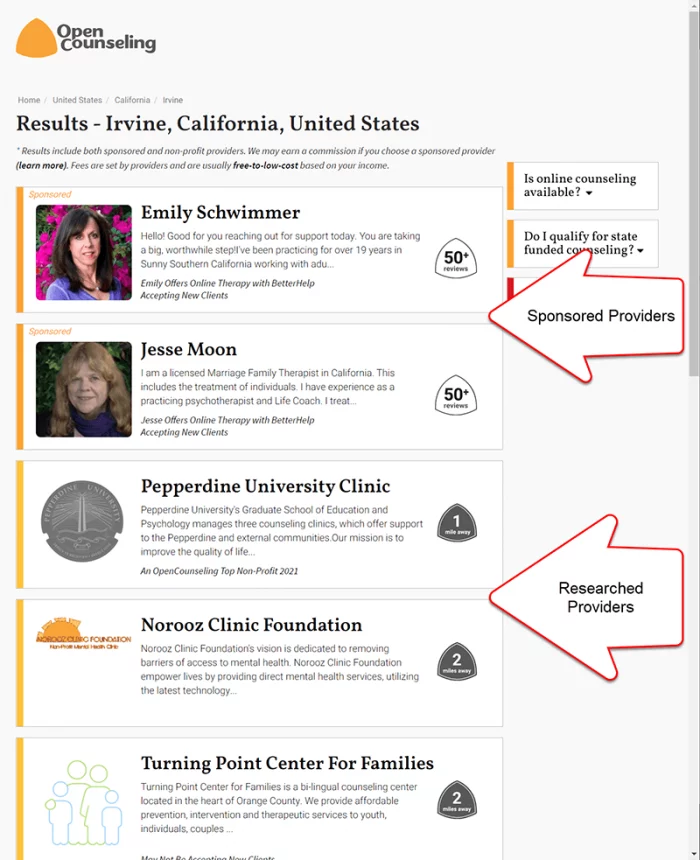 More Questions?
We help 150,000 visitors a month. We take a lot of pride in the good we do. Feedback from our users is important to us. We cover complex systems and topics that change over time and know that we might miss important information or need to update our articles as systems and circumstances change. If you are ever reading an article and have feedback, please click the "Report Issue" button. Please also reach out if you need clarification about something you've read. If you have any questions about our affiliate relationships or any issues related to sponsorship, please contact us with those questions, and we'll be happy to give you more information.