How Do I Tell My Therapist I Want to Quit? (Without Feeling Bad)
---
Short On Time?
Here's two ways to read the article.
It just isn't working out. You've given your therapist a few sessions—or even longer than that—and it isn't clicking. They don't seem to get you, their method doesn't seem to help, or you just don't like them.
Or maybe you've been seeing them a long time, and things were really good at first, but they're not anymore. Your progress in therapy has plateaued, and therapy sessions now just feel like an expensive, uneventful chat session. You wonder why you're still going.
You want to try a different therapist or even quit therapy altogether, but you keep avoiding the subject. You just can't bring yourself to tell your therapist you don't want to see them anymore. What do you do? What do you say? How do you tell them without getting a lot of pushback or hurting their feelings?
Listen to Mark and Stephanie share more about this topic in our podcast.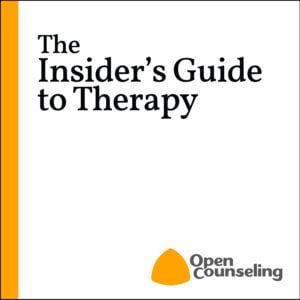 The Insider's Guide to Therapy
How Do I Tell My Therapist I Want to Quit? (Without Feeling Bad)
Like what you hear? Hit the subscribe button in the player above, to keep learning how to make the most of therapy.
And how can you be sure it's the right decision? What if you decide to quit but later wish you hadn't?
Worries like these can keep you stuck in a cycle of unproductive therapy sessions that make you feel like you're watching your money go down the drain.
We're here to help you break this cycle. Read on to learn how to recognize when it's time to break up with your therapist, how you can do it as painlessly as possible—and how you can even make it a positive experience!
How Can I Tell When It's Time to Break Up with My Therapist?
Just because therapy doesn't feel great doesn't mean you're with the wrong therapist, or that therapy isn't for you.
Therapy can be uncomfortable, and no time in therapy is more awkward than the beginning. Your therapist batters you with questions, you can't get a read on them yet, and it's too early to tell if all this painful emotional excavation is helping anything.
That's why we recommend not quitting or changing therapists until you've had at least three to four sessions. You may even want to give them one or two more than that if their initial assessment takes a couple of sessions to get through, because the rest of therapy will feel really different.
(Of course, if your therapist does something unethical or you feel unsafe, there's no need to go back. If your therapist is a creep, feel free to move on immediately, without explanation. Just make sure to cancel any future sessions so you don't get charged a no-show fee.)
However, if things haven't clicked into place by your fifth or sixth session, you feel just as awkward and uncomfortable as when you began, and you still aren't seeing how this is going to help you, it's a strong sign this isn't the right therapist for you and that you should move on.
What Are Some Signs That Therapy Isn't Working?
There's no perfect scientific way to measure whether therapy is working, especially in the very beginning. However, there are signs you can look out for that it isn't. If any of the following apply to you, you may be wasting your time in a therapeutic relationship that's on the road to nowhere:
You dread going to therapy even when you're not working on something hard.
Your therapist vents about their personal problems and spends a lot of time talking about themselves.
Your therapist says things that are so far off the mark, they make you cringe. They don't seem to get where you're coming from at all.
Your therapist has done or said things that made you so angry or upset you don't feel like you're ever going to be able to like or trust them.
You're not making any progress on your therapy goals and you don't see how you possibly could achieve them with this therapist or approach.
You feel like your therapist doesn't respect your time—they often run late, cancel sessions, multitask when they're with you, or spend way too long engaging in idle chit-chat.
You leave therapy feeling worse instead of better, and you don't feel like you're learning anything that's going to help you feel better further down the road.
Therapy doesn't always feel good. But even when it's hard, good therapy should give you hope. You should be able to see how delving into these difficult feelings, memories, or thoughts is going to help you—or how it's already helping you. If it just feels bad, period, it's a sign that something isn't right.
Ultimately, it's important to trust your gut. There are bad therapists who will make you feel bad from the get-go, and who will only make you feel worse over time. Bad therapists can do more harm than good. So, if it feels awful, and your instincts tell you something is really off, move on—there are too many good therapists out there to waste your time needlessly with a bad one.
It's even trickier to know when it's time to break up if your therapist has already proven their worth. If you and your therapist clicked early on and did good work together, you may feel loyal to them and like you should keep going no matter what. It might feel like it would be a betrayal to move on just because you got what you wanted from therapy.
But… that's how it works. We know, it feels weird. In the course of the intimate, life-changing work you do together, you and your therapist can develop powerful feelings of caring, respect, and gratitude for one another. It's a real, meaningful relationship. All of that is true at the same time that therapy is a service you pay for, and there's no need to keep paying for it if you don't need it anymore.
In theory, the personal growth you can do in your lifetime is endless. Many people happily go to therapy for years. As they check off some therapy goals, they find others to pursue. If that's you, that's okay! You don't have to quit if you really enjoy therapy and continue to get good things out of it.
But ultimately, therapy is designed to get you to the point you don't need it anymore. If you're starting to feel like you don't, it may be time to move on (or at least take a break until you find there's something new you want to pursue or address in therapy).
How Can I Make Sure Breaking Up with My Therapist Isn't a Mistake?
One of the reasons it's easy to get stuck in therapy that isn't working is the fear that it would be a mistake to quit.
Telling your therapist that you don't want to see them anymore can feel like burning a bridge. What if you change your mind and want to go back?
The good news is that you risk very little by telling your therapist you want to move on or try something new.
First, they won't take it personally. Good therapists know they're not going to be the right therapist for everyone and that most clients eventually want to move on from therapy.
And nearly all therapists will tell you they'll be happy to work you back in if you change your mind, identify a new therapy goal, or find a new issue you want to address with them. Yes, you might have to wait if there's not an immediate opening, but they're not going to refuse to take you back.
If you're not sure, talk about it! (In therapy, the solution to nearly everything is talking to your therapist about it.)
A good therapist will help you explore your thoughts about moving on and may even be able to give you a referral if they agree that someone with a different approach would be a better option for you. Or you may decide you want to keep seeing them. Having the conversation will help you decide either way.
If you've been going to therapy for a while, and like your therapist, it's even easier. Tell them you're starting to feel ready to move on and see what they say. They've been watching your growth and may even be on the same page. In fact, they may have been anticipating this moment—or planning on bringing up the subject of ending therapy to you!
In any case, they'll be supportive and help you figure out how—and how soon—you want to end therapy with them. And nearly always, they'll happily welcome you back if and whenever you might want to come back and work on something new.
Why Shouldn't I Just Ghost My Therapist?
Ghosting has become the normal, preferred way to back out of relationships that aren't working. So why can't you just ghost your therapist?
Well, you can (and there are times when you should—more on that later), but we don't generally recommend it.
Ghosting is an unhealthy way to end a relationship. It denies both of you closure. It leaves one or both of you forever wondering.  And if the issue was fixable, you don't get a chance to fix it.
When Should I Ghost My Therapist?
There are exceptions to every rule, and there are times when you absolutely should ghost a therapist instead of trying to talk things out with them.
By all means, ghost your therapist when:
They've done (or said) something that makes you feel unsafe.
They've confessed sexual feelings to you or otherwise tried to "go there" with you.
They've been pressuring you to contribute money to their other business or to get involved in things outside of therapy that benefit them politically or financially.
They are condescending or judgmental and talk to you in a way that makes you feel small, less than, or like you have to change something you don't want to change to get their approval or be acceptable to them.
They've said something racist, sexist, homophobic, or otherwise prejudiced or bigoted (or anything that makes you feel like they'll never be able to understand where you're coming from and that it would be pointless to try to talk to them about it).
Some therapists just suck. You don't owe a bad, unethical therapist another chance to make you uncomfortable or do something to harm you. And it's not your job to educate a therapist who's woefully ignorant about something that affects you.
However, we recommend that you least call the front desk at their office, leave a voicemail, or write an email canceling all future scheduled sessions to avoid getting charged no-show fees.
When you ghost a therapist, you're missing the chance to practice a difficult skill—ending relationships gracefully—in a safe, low-stakes environment.
Few people are easier to have difficult conversations with than therapists. They are trained to listen with an open mind, to empathize with you, and to prioritize your needs.
Most won't get defensive or argue. Instead, they'll make it easy to talk it out, shake hands afterward (only if you want to, of course), and move on feeling good about it (instead of feeling vaguely embarrassed or weird like you do when you ghost someone).
It's healing to be able to end a relationship well, with no hurt feelings, regrets, or things left unsaid. Learning how to do it with a therapist can help prepare you to do it in other, more difficult contexts with people who aren't as good at it.
Another reason it's a bummer to ghost a therapist is you lose out on the chance to get a really good referral to another therapist who may be a better match.
It can be hard to find the right therapist, and you can save yourself a lot of trouble by asking the therapist you're moving on from if they know anyone who has the expertise you're seeking.
Therapists are generally aware of local therapy and mental health resources and may immediately be able to recognize the right therapist or resource for you.
So, please, unless it's absolutely necessary, or you feel unsafe, don't ghost your therapist! Talk it out with them instead and you may be surprised by how glad you are that you did.
How Can I Break Up with My Therapist Gracefully?
Even if you're sure it's the right thing to do, you might hesitate to break up with your therapist because you're not sure how to do it.
Figuring out how to put it can feel so awkward. If you're mad at them, do you tell them that? If you don't think they're very good at this, do you tell them you think they suck?
Or do you just feed them a line about how you're too busy? Do you lie and say you're leaving town? Do you leave a voicemail with an improvised story about how you're moving to a farm in the Alps where there's no wi-fi and sorrythanksforeverythingbye?
And what if you're not mad? What if you don't think they suck? What if they seem like a perfectly nice, perfectly good therapist, but you just don't feel like they're a good fit for you?
Do you say, "You're a lovely person, but I'm shocked by how little you know about what people like me face"? Do you say, "Gosh, I really would keep coming here, if your nasal delivery and stories about your sheepdog Sue didn't get on my very last nerve"?
Ugh. Maybe if you just keep coming and staring at the wall, they'll eventually put it together and tell you, "This doesn't seem to be working. Would you like a referral to another therapist?"
But do you really want to spend weeks—and possibly a whole bunch of your money—showing up to sessions with a therapist you don't really want to be seeing in the hopes they'll figure it out and be the one to break the ice about breaking up? We wouldn't recommend it.
Fortunately, your only options aren't ghosting your therapist, lying, or saying the most awkward (or mean) sentence you've ever said to another person in your life.
How Can I Break the Ice About Wanting to Move On?
Therapists can handle the truth. Well, most of them at least.
If you want to be blunt, that's probably fine. They might flinch, but they won't freak out.
But you might not want to be that blunt, especially if you're not upset with your therapist and like them well enough.
Fortunately, there are many ways you can break the ice that are tactful and compassio...
Therapists can handle the truth. Well, most of them at least.
If you want to be blunt, that's probably fine. They might flinch, but they won't freak out.
But you might not want to be that blunt, especially if you're not upset with your therapist and like them well enough.
Fortunately, there are many ways you can break the ice that are tactful and compassionate. If any of the following ice-breakers fit your specific circumstances, consider trying one of them.
"I really appreciate you but I'm not sure we're the right fit as therapist and client. What do you think? Can we talk about it?"
"I'm not sure our sessions are addressing my therapy goals. Can we review them and explore how to get on track?"
"I've learned a little more about therapy and I've started to wonder if I might need to see a therapist who uses a different method. Or maybe you can adjust your approach now that I'm starting to better understand what I need. What do you think?"
"Our sessions feel good, but I'm not sure they have the right focus. Something just isn't clicking for me, and I'm not 100 percent sure what it is. Would you be willing to explore this with me? Can we talk about different approaches that might work better for me?"
"You've helped me so much throughout the time we've been together. I've met so many of my therapy goals. My life is different now. Thank you. It makes me sad, and I know I'll miss our sessions, but I think it might be time to end therapy and try life without it for a while. Can we explore the best way to wrap up our work together?"
"I really appreciate your time and caring. You've listened to me talk about some pretty deep things and have been so supportive. But I'm starting to feel like I need something different—maybe not even therapy at all. Could you help me with a referral to another therapist, to a coach, or to another resource that might better fit my current needs?"
The great thing about opening the door to any of these conversations is that they allow room for exploration.
You and your therapist may agree that another therapist would be a better fit, or that it's time to wrap up therapy, but you might also find out that you can work well together and that you want to continue. After you clarify your needs and goals, your therapist may be able to adjust their approach so that things really start to click and take off for you.
View More
View Less
If all of this feels like a bit much, trust your gut. Your particular situation may not warrant a session-long conversation.
It makes sense—and is more important—to talk to your therapist about it if you've been seeing them a while. If you've only seen them for a few sessions, and are confident they're not the right fit, sending them an e-mail or text letting them know is probably just fine.
And if you do think it's worth talking in person about, but it feels too awkward to bring it up in the middle of a session, you can use an e-mail as an ice-breaker. Mention your concerns in the e-mail and close by asking your therapist if you can talk about them in your next session.
Just keep in mind that if you e-mail or text your therapist to let them know you're not coming back, you miss out on the chance to explore whether the issue between you was fixable.
So, we recommend saying good-bye in this way only if you're completely sure you're done, don't have a long history with your therapist, and know you don't want to continue with them.
What Do I Do If My Therapist Tells Me I Shouldn't Quit?
While it's unlikely your therapist is going to argue with you or badger you about your decision (though it does happen), they may disagree and ask you to consider continuing with them.
This can be annoying and misguided, or it can be spot-on. The reason you want to leave might not be what you think it is. You might be wanting to quit therapy or change therapists right as you're butting up against an important insight or are on the cusp of a major breakthrough.
It's a weird self-sabotaging instinct that can come up in so many situations: you're right about to achieve a goal, and you turn away right before you do.
Even good change can feel scary. You might not feel ready for it. Self-doubt might creep in. You might worry about judgment or rejection from people who would rather not see you change. You might have a lot going on in your life and feel like you don't have the energy right now.
Whatever it is, it's okay. Maybe you're not ready and your instincts are steering you right. Maybe your therapist can slow down the pace of therapy, or maybe you really do need to take a break and come back when there are fewer stressors in your life.
Should I Continue with a New Therapist or End Therapy Altogether?
Realizing you want to break up with your therapist can leave you with a lot of confusing feelings, especially if you've been seeing them for a while and it was good once.
Is it them specifically, or therapy in general you're wanting to move on from? Should you make sure you have a new therapist lined up to start a new round of therapy right away, or should you take a break?
One easy way to tell is if you feel like you have unfinished business or incomplete therapy goals. Do keep in mind, though, that not all goals are therapy goals. Sometimes the best way to continue the work you did in therapy is to continue it in a different arena.
Consider taking a break from therapy when:
Going to therapy has started to feel like a way to avoid making life changes instead of actually making them.
You and your therapist start repeating yourselves and circling back to things you've already addressed and worked through.
Your progress has plateaued significantly and your therapy sessions no longer seem to be having much of an impact on your life.
The help you need to achieve your goals is now more practical than psychological. Seeing a coach or taking a class feels more relevant than continuing in therapy.
Moving on from therapy always feels at least a little bit edgy. You're taking a leap to see if you can soar away from your therapist and stay aloft on your own. It's natural to feel a little anxious.
But it shouldn't make you feel unsafe. If you feel like you're putting your mental health or well-being at risk, it's a sign you're not quite ready to leave therapy and probably should continue—even if it's with a different therapist.
If you trust them at all, consider what your therapist has to say. Hear them out. It's ultimately your decision whether you continue, so listen with that in mind. Listening to their point of view can activate your intuition and help you gain more clarity about your decision to stay or go.
Again, though, don't worry too much about making a mistake. A good therapist will make it easy to come back if you change your mind. And even if you ultimately go back to that same therapist, it may not have been a mistake at all to leave when you did; you may find therapy clicks a lot more when you come back, because it wasn't the right time then, but is now.
Conclusion
Breaking up is hard. It can bring up feelings of sadness, failure, and regret. It can make you doubt yourself. "If this is the right thing to do," you might think, "why does it feel so wrong?"
These difficult feelings, and the doubts that accompany them, can cause you to keep putting off that painful conversation about ending things. Many relationships run out the clock and go into overtime just because it's so hard to end them that both parties avoid doing it for a long time.
When you put off breaking up with your therapist, it can lead not only to wasted time, but to wasted money. As long as you keep going, you'll continue to get charged for the ineffective, unhelpful, or even unpleasant sessions you wish were just over already.
While therapy is good in general, it's not good by default. It needs to have the right ingredients and right chemistry to work. Bad therapists can do more harm than good. Good therapists who are a bad match for you probably won't harm you, but they probably won't do you much good, either.
This is why it's so important to tell your therapist when it feels like therapy isn't working. Therapists are intuitive, but they're not mind readers, and they may have no idea that your sessions aren't helping you or that you're thinking about moving on.
It might feel really awkward, but any good therapist will be glad you told them. Good therapists know they're not the right fit for every client—and they don't want you to waste your time not getting the help you need. A lot of the time, they can even give you a great referral to someone who's a better match.
And there's more than one potential outcome of that conversation. You and your therapist may agree it's best for you to see someone else, or you might find you actually want to keep working together—you just needed your therapist to adjust their approach.
It's even more important to talk it out if you've been going to therapy for a while.
If therapy has been great, but you've met your goals and feel like you don't need it anymore, that conversation can not only be helpful—it can feel really good. It can be an acknowledgement and celebration of everything that has worked between you. It might even feel a bit like a graduation ceremony. It can be emotional in the best possible way.
So, please, talk about it. You can be blunt, you can bring it up gently and diplomatically, or you can even send a text or e-mail first. But we can almost guarantee you—however you do it, and whatever the outcome, you'll be glad you did.
---
Stephanie Hairston
Stephanie Hairston is a freelance mental health writer who spent several years in the field of adult mental health before transitioning to professional writing and editing. As a clinical social worker, she provided group and individual therapy, crisis intervention services, and psychological assessments.