Why Won't My Therapist Just Tell Me What to Do? (3 Good Reasons)
---
Short On Time?
Here's two ways to read the article.
You're not alone if you're coming to therapy because you have some pretty specific problems you're hoping a therapist can help you solve.
After all, that's the purpose of therapy, isn't it? You have an issue you can't quite sort out on your own, so you go to a therapist, and they help you sort it out. Right?
Sort of.
Therapists do help you solve problems, but not in the way you might think.
Most of the time, when you need someone to help you solve a problem, you're looking for either practical help or advice. For example, if you need to fix a leak in your roof, you either look for someone who can patch it up for you or someone who can tell you how to patch it up yourself.
A therapist doesn't really offer either of those kinds of help.
And while you probably don't expect a therapist to pull up their sleeves and get to work in your garden or on your car, it's not unusual to think a therapist's main job is to give advice—to tell you, step by step, how to solve your problems.
This common misconception about how therapy works is the source of a lot of confusion and frustration. It leads many therapy clients to ask, "Why won't my therapist just tell me what to do?!"
We're here to help. Many therapists do things the right way but make the mistake of not explaining why they do it that way. We can provide the explanation that they don't.
So, if you're confused or irritated by your therapist's stubborn refusal to give you advice, read on. Hopefully, by the end of this article, you'll understand—and, more importantly, appreciate—why this is one of the many weird things a therapist just won't do.
Listen to Mark and Stephanie share more about this topic in our podcast.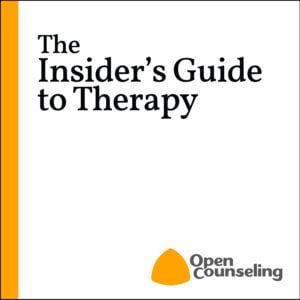 The Insider's Guide to Therapy
Why Won't My Therapist Just Tell Me What To Do?
Like what you hear? Hit the subscribe button in the player above, to keep learning how to make the most of therapy.
Reason #1: Therapists Aren't Experts at Life
It seems therapists are doomed to live in the shadow of two pretty contradictory ideas: either they're emotional gurus who have their own lives fully sorted, or they're deeply messed up people who went into this field to try to sort themselves out (but still haven't quite managed it).
The truth lies somewhere in the middle. Therapists have figured some things out, and they usually aren't as spectacularly flawed as the most sensational stories about them suggest, but they also tend to have as many problems as the rest of us. That's why so many of them have their own therapists—or coaches, or supervisors, or support groups.
"Why would I take advice from someone who has as many problems as me?" you might ask.
Well… you shouldn't. In fact, therapists are taught in school that it's a bad idea—and maybe even unethical—to give clients direct advice.
It's literally not your therapist's job to give you advice. The only exception is when you ask for help with something they actually are an expert on. For example, your therapist can tell you how to deal with symptoms of depression, how to improve communication with your partner, or even how to tackle a creative block.
But a good therapist generally won't give you financial, career, romantic, or general life advice, such as whether you should get this house or that one, whether you should start dating this or that person, or whether you should quit your job, sell your car, and take up van life.
The reason is that your therapist doesn't know the answer. They truly and sincerely don't know which option is best for you. Sure, they probably have opinions, and may even think they know the "right" answer, but they also know they could be wrong. Because they're not you.
You Are the Expert on Your Own Life
There's a school of therapy called humanistic, person-centered, or Rogerian therapy that holds this as one of its core principles:
You are the expert on your own life.
Carl Rogers, the founder of this school, developed this concept as a counterpoint to the traditional view of therapists as experts. To him, that just didn't feel right.
Instead, Rogers saw therapists as collaborators who engage in active, respectful partnership with their clients. They don't "figure you out"—they help you figure yourself out.
That said, therapists do have some expertise. They have insights into how the mind works, how we tend to get in our own way, and how human relationships work.
What they do, then, is combine their expertise with yours. They point out certain patterns they notice in your thinking or behavior, help you figure out where they came from, and collaborate with you on a plan for how to change them (if that is indeed what you want to do).
It's only through this active collaboration that they can help you solve problems, address issues, and grow as a person. Because ultimately, they are not the expert on your life—you are.
As much as your therapist knows about you, there's a lot they don't know, and there's a lot they wouldn't know to take into account when giving you their advice or opinion. So, the good ones know not to go there, because they could end up giving you some really bad advice.
They also know that even if they give you good advice, that's not the best thing they could do for you. The best thing a therapist can do for you is help you connect to your own wisdom.
Reason #2: Giving Advice Isn't Actually All That Helpful
How many people in your life have given you advice? And how much of that advice has been good?
And of the good advice you've received, how much has really helped you? How much have you actually taken and applied? And what have the results been?
You might be surprised to realize how rarely you've been given good advice that you actually applied and that actually made a significant impact on your life.
While practical advice can be helpful at times, the kind of life advice we most want almost never helps, even when it's insightful.
The truth is, we don't really work that way. We look for answers all the time, but we also constantly bat away and reject the answers we receive.
Why do we do that? Because life demands we find our own way to our own truths. Wisdom can only be gained from experience. We have to test things out first before we really know.
At best, advice can give us ideas for what to try. But it can also steer us away from paths that might be worth taking. So many people give advice that isn't well-informed.
Giving advice is easy. It takes nothing but the audacity to give it. Some people can back that audacity up with genuine insight, but many can't.
People are giving you advice all the time. Your partner, your parents, your friends. Religious and spiritual leaders. Talk show hosts. Television therapists and judges. Authors of self-help books. Social media creators. Gurus on the Internet. Random people you just met. Fictional characters.
Good therapists are among the few people that realize they're not really qualified to give general life advice. They're aware of the tremendous complexity of each human life and know that what looks obvious to an outsider often isn't. They know there's usually more to the story.
And they know even good advice doesn't help as much as people think it does.
Following someone else's advice leaves your confidence, intuition, and problem-solving capabilities no stronger than before you received it.
If you never develop trust in yourself, you can fall into a pattern of taking someone else's bad advice over your own insight. This makes you vulnerable to bad advice from bad people. It can become a vicious cycle: you follow bad advice that leads to bad results that you then need more advice to address.
Therapists want to help you break this cycle. They want to help you get better at making your own decisions and finding your own answers. They want to help you gain the confidence and capability to decide for yourself.
This doesn't mean that therapists insist on a rigid idea of independence. They want you to have strong relationships with other people who can counsel you well. It's just that they want you to be able to engage with them—and their advice—from an empowered place. They want to make sure you have access to your own wisdom.
Reason #3: Giving Advice Is the Opposite of Therapy
Giving advice goes against the purpose of therapy, which is to help you get to know yourself better.
Sure, therapy has more than one purpose. It treats mental health conditions. It helps with personal growth. It untangles knots in your relationships. But the way it does all of that is by giving you more self-knowledge.
Good therapy helps you understand how your mind works. It teaches you how to engage with it—how to question it and not always believe what it tells you so that you're not limited to responding to life from old patterns, trauma, defenses, anxiety, or depression.
Ultimately, therapists want you to engage with your own mind's "advice" the same way you engage with advice from others. They don't want you to reject it outright, but they also don't want you to instantly believe whatever it tells you. They want you to be able to evaluate it.
Your therapist will sometimes help you build your problem-solving muscles by reasoning through things with you—but their main focus is on helping you deal with the symptoms or emotional issues that short-circuit the problem-solving process.
Therapist, Lend Me Your Ego!
There's an old-fashioned idea in therapy that sometimes a therapist needs to lend a client their ego for a little while.
If a therapist "lends you their ego," this means they become something like a secondary brain or problem-solving center for you while your brain isn't working well enough to solve problems.
When you're in crisis, or suffering from a particularly severe mental health condition, you're usually not capable of thinking clearly or rationally.
You can't solve your problems when you're caught in fight-or-flight, struggling like an animal in a trap, thrashing wildly just to fulfill your instinct to get out of the pain or danger you're in.
At such times, a therapist may need to offer more direct guidance than usual to help you get through the crisis.
In other words, under certain conditions, a therapist will give you advice. But only just enough to help you get to the other side of the situation you're in so they can get back to their normal way of working with you.
To address the issues that hold you back, you might have to delve into your past—or you might not. But the one thing you'll always have to do is learn how you're getting in your own way.
You might be caught up in depressed or anxious thoughts, the shadows of trauma, or hurtful words others have said to you.
Whatever it is, for therapy to work, you have to uncover and disconnect the dots—the points where your brain uses irrational thoughts, painful memories, or impulsive reactivity to lie to you and lead you astray.
Therapy can help you become more confident and help you believe in yourself more by helping you heal the wounds that have damaged or limited your perspective or sense of self.
As you overcome what once gave you doubt and pain, you knock down the obstacles that once stood between you and your intuition—your deep inner knowing of what to do.
This is all the opposite of what advice does. Don't get us wrong—advice has its place. But therapy is so much more than that.
If a Therapist Can't Give Advice, What Can They Actually Do?
Good therapists won't give you general life advice, but they also won't leave you in the lurch. They won't just cross their arms and say, "I'm not going to answer that," and stare at you until you awkwardly change the subject.
Therapists are there to help, after all. They want to help. The only reason they won't just give you the advice you're asking for is because they know it probably won't help you—and could actually hurt you.
So, what do they do instead?
Lots of things. You might be surprised by all the creative ways a therapist can help you solve a problem—even a really specific one—without offering a single shred of advice. They'll do just about everything but tell you what to do.
How Do Therapists Help You Solve a Problem?
When you're trying to solve a problem and need some help, a good therapist generally won't tell you what to do. But they will try to help. Instead of offering advice, your therapist might:
Alert you to options or choices you haven't considered
Suggest an alternate way of looking at or thinking about things
Explore your choices with you and guide you through thinking about them
Remind you of your strengths and that you're capable of embracing challenges
Listen with their full attention and caring so it's easier to talk things out with them
Provide emotional support and encouragement as you work through difficult decisions
Explore how past experiences, trauma, anxiety, or depression might be limiting your perspective
Share their observations when they believe a dilemma you're facing reflects a larger pattern in your life
Offer their interpretation of why you seem to be going through a certain pattern over and over again
Provide information (and even advice) that will help you understand and deal with a mental health condition
Give you tools or homework that can help you when you face difficult decisions or stressful situations in everyday life
Recommend books or other media to you that they believe will help you explore topics related to mental health or personal growth
Help you explore and process emotions related to a decision you're facing so you can overcome the emotional barriers to making it
Teach you skills and techniques that can help you tolerate difficult feelings, uncertainty, and anxiety so you don't make impulsive decisions just to avoid feeling them
Guide you through self-exploration and self-inquiry so you can discover your true values, motivations, and desires—and make decisions based on them
Help you formulate a plan that will help you achieve a goal—in other words, help you figure out how to get there once you've decided for yourself what you want to do
So, yes, depending on how you define "advice," therapists will sometimes give you some. They're especially likely to give you advice if you ask for help with a mental health condition—because that is their area of expertise.
And when you're in crisis, your therapist will provide more direct advice and guidance to help you get out of that crisis.
But when you're uncertain about an everyday life decision, they're much more likely to give you advice on how to go about making that decision than tell you what they think you should do.
How a therapist specifically helps you depends on the method they use. Some therapists will do more of the things on the above list than others.
For example, psychodynamic therapists believe that being too directive with you can interfere with the therapeutic process and keep you from having important insights. They often use silence as an essential therapeutic tool to help you go deeper into yourself.
On the other hand, cognitive behavioral therapists love sharing tools and strategies that can help you solve problems. They believe that straightening out kinks in your thinking can get you pretty far in recovering from conditions like anxiety and depression—and the evidence supports them.
But no matter what method your therapist uses, they generally won't dole out the same kind of direct advice a friend would. Your relationship with your therapist is different from the relationship you have with anyone else.
Your therapist is there to make you a better version of you—not to try to shape you into their idea of what you should be. A good therapist doesn't have an agenda. They meet you where you are and help you work toward the life you want.
Conclusion
Before starting therapy, it's easy to think a therapist's job is to give you advice. After all, many celebrity and television therapists do just that.
But in real life, most therapists don't give advice. In fact, giving advice can go against the ethical codes they follow that warn them not to impose their own values or beliefs on their clients.
Good therapists know that giving you advice doesn't help you that much—and that it can even hurt you.
For one thing, therapists aren't experts on most of the things you might ask them about. (They often will give you advice when you ask about something that is in their area of expertise, such as how to deal with symptoms of a mental health condition.)
Where Can You Find a Therapist?
For another thing, giving you direct advice would disempower you. Good therapists don't want to become an authority figure you passively follow. They want to help you access your own power and expertise. They believe you're the expert on your own life—not them.
A therapist is more likely to try to get you to question and think about why you're facing a certain problem—or why you're having a hard time making a decision, or why you even see something as a problem at all—than they are to give you a ready-made solution or to tell you what to do.
A therapist's real job is to help you understand yourself better. They know that if they can do that, every decision will be easier for you to make and every problem will be easier for you to solve.
Therapists want to go deeper than just help you solve one specific problem in your life. They want to help you get better at solving all your problems.
Therapists want to help you improve your overall confidence, intuition, and mental and emotional clarity. They want to help you figure out who you really are, and what your values really are, so you can make decisions based on that.
A therapist's greatest hope is that when you wrap up work with them, you'll trust yourself more. They want you to leave therapy better able to deal with your own mind than when you began. They want you to be less blocked by your defenses and freer to be your full authentic self.
A good therapist knows that if they hold back from giving advice, and instead focus on giving you the unique kind of help only a therapist can give you, they can do so much more for you.
Good therapy can help you shift patterns you've repeated for years. It can help you see more options and possibilities than you ever have before. It can free you up inside.
It can change your life.
---
Stephanie Hairston
Stephanie Hairston is a freelance mental health writer who spent several years in the field of adult mental health before transitioning to professional writing and editing. As a clinical social worker, she provided group and individual therapy, crisis intervention services, and psychological assessments.