My Therapist Won't Share (or Overshares) About Their Life. Help!
---
Short On Time?
Here's two ways to read the article.
Have you ever asked your therapist a question and gotten a weird, blank look or an awkward smile in return?
After that, did they lapse into uncomfortable silence? Or did they respond to your question with a question, maybe something like, "What makes you curious about that?" or "Why would you like to know?"
If so, you're not alone. This awkward moment has played out between many therapists and clients.
Why are therapists like this? Why won't they just tell you what you want to know? Is it even fair for them not to? After all, they know everything about you.
Well, like a lot of awkward things in therapy, there's actually a good reason for this. And it's not that your therapist is being rude—even if it feels like they are. It's that telling you too much would be bad for you as a client. It would be bad for your therapy.
The relationship you have with your therapist is unique, and their weirdly specific boundaries are essential for effective therapy. Read on to learn more about why you probably don't know that much about your therapist—and why that's a good thing.
Listen to Mark and Stephanie share more about this topic in our podcast.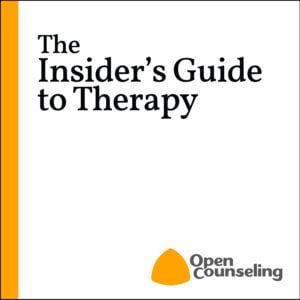 The Insider's Guide to Therapy
My Therapist Won't Share (or Overshares) About Themselves
Like what you hear? Hit the subscribe button in the player above, to keep learning how to make the most of therapy.
Why Is the Therapy Relationship So Weird?
Your relationship with your therapist is different from any other relationship you have. You share your deepest, darkest secrets with them, but you don't know much about them at all.
Maybe you haven't thought about it that much—how little you know about your therapist. Or maybe you have, and it feels appropriate and doesn't bother you. Or maybe it irritates you. Maybe it makes you feel awkward, guilty, or uncomfortable.
All of those reactions are valid. It is appropriate in therapy not to know much about your therapist, but most of your relationships aren't like that, so it can feel wrong on an instinctive level. It can feel unfair—whether to you or to them.
It isn't normal to tell someone as much as you tell your therapist and for them to tell you so little in return. It isn't normal anywhere outside of therapy, that is. So why is it normal in therapy?
The reason you have this weird one-sided relationship with your therapist is that it's what makes therapy work.
The purpose of therapy is to get to know yourself better. At best, talking about your therapist's life would be a distraction. It would waste your time and money on things that aren't going to help you make any progress on the goals you came to therapy to achieve.
Even worse, your therapist sharing too much might have a negative impact on you during and after therapy. You might worry about them or wonder if they're too messy to be your therapist. You might feel burdened by their struggle and start holding back what you say out of fear it would hurt them.
And that wouldn't work at all.
Your therapist talking about their problems would shut the therapy process down almost completely, and that would be totally unfair to you.
That's why your therapist won't do it—won't tell you what they did on their vacation or whether they're struggling with something in their personal life.
This doesn't mean your therapist will never tell you anything personal. In fact, telling you a little bit about themselves can be good for the therapeutic relationship.
What and how much your therapist shares with you will depend on a few different things—their personal preferences and comfort level, which therapy method they use, how long they've been practicing as a therapist, and what they're ethically allowed to share with you.
Whether your therapist chooses to share a little about themselves ultimately depends on their personal and professional judgement. However, all therapists (all good therapists, at least) will draw the line about what they share somewhere.
How Much Can a Therapist Actually Say?
Most therapists learn in school that they're supposed to limit how much they tell you about themselves, and that it's usually best if they err on the side of caution and don't share anything at all.
This is why you'll probably learn less about a newer or younger therapist who's fresh out of school than you might learn about a more experienced therapist who's gained comfort with the nuances of what is and isn't appropriate to share with a client.
But even the most experienced therapists often fall back on that early advice. Ethical therapists check in with themselves before they share something and ask why they want to tell you. If it's to vent or show off, or otherwise for their own benefit, they remain silent. A good therapist will only dish their personal details to you when they believe it will benefit you.
What Might It Help You to Know About Your Therapist?
Not all therapist shares are self-indulgent. Sometimes, learning something about your therapist can help you get through an impasse in therapy. It can shift your perspective, help you realize you're not alone, or make it easier to talk about something difficult.
So, if your therapist feels it's the right thing to do, they might choose to tell you that:
They've struggled, too.
They share identities or roles with you.
They've had life experiences like yours.
They've suffered a similar loss or trauma.
They get upset by the same things as you.
They live a similar lifestyle as you.
They watch that show, too.
When a therapist tells you something personal, the point is nearly always to let you know they get it. They understand on a level you might not realize. Learning this about them can make it easier to trust your therapist and to talk about the thing you share in common.
But no matter what the topic is, when a therapist decides to share something personal, they have to be careful not to share too much.
So, while they might gently let you know you're not alone, they're probably not going to go into too much detail about whatever it is they have in common with you. That would unnecessarily burden you with their own issues. They have their own therapist (or supervisor) they can talk to when they need the same kind of support that you're there to get from them.
Therapists have to be careful with light conversation, too. A therapist who gets too chatty is wasting your time, and they're also sending you confusing mixed messages about what kind of relationship you have with them (and how that relationship works).
Why Your Therapist Isn't Your Friend
To learn more about what makes a therapist different from a friend, why you'll probably never hang out after therapy, and why it can even be dangerous for a therapist to start acting like your friend, you can read our article, "Why Can't I Be Friends with My Therapist?"
Chances are good your therapist genuinely cares about you. It's not unlikely that they like you. They may even find you to be the kind of person they'd be friends with outside of therapy.
But they have to be careful not to start acting like a friend and chatting about their day with you. At best, too much chit-chat in therapy leads to superficial sessions that don't go anywhere. At worst, it leads to blurred or broken boundaries that can destroy the therapeutic relationship.
What Happens When a Therapist Shares Too Much?
While there are things your therapist can tell you that are ethical and helpful to share with you, that doesn't always mean your therapist will share them. It's a complicated decision for them to tell you something personal, because there's always a risk when they do.
Ethical therapists wrestle with themselves over whether they should share what they want to share.
They think about it, and they may even discuss it in supervision or in their personal therapy.
Good therapists only self-disclose when they think it might help you.
Even if your therapist tells you the right thing for the right reason, it might not have the effect they intended. It might make you uncomfortable. It might make you feel unheard instead of heard. You might disagree with your therapist that your experiences are actually that similar and feel like they're minimizing what you've been through.
On the other hand, you might appreciate knowing they have something in common with you, but then you might start to worry about them. You might start to wonder whether you should talk about certain things that could trigger them. You might feel like they're not okay enough emotionally to help you.
Worries like these can cause you to stall out completely, so some therapists choose not to tell you even when they do have something in common with you. Neither choice is right or wrong—it's always up to each individual therapist to decide.
However, there are some things a good therapist would never share with you.
When a Therapist Shares Too Much
There are some things that are never okay for a therapist to tell you. For example, it's a red flag if your therapist tells you:
They're attracted to you.
They have sexual thoughts about you.
They're doing self-destructive or hurtful things.
They think you deserved something bad that happened to you.
They judge you or your behavior harshly and look down on you.
They disapprove of your opinions or religious or political beliefs.
Don't worry—it's extremely unlikely that your therapist has nasty or hateful thoughts about you. Most therapists like and have empathy for their clients.
It's just that there are some really bad therapists out there. Some are simply bad people—psychopaths and predators. But most bad therapists are just people who haven't fully worked through their own issues. They don't have the self-awareness not to vent to you.
So, while it's rare, there are actually a few bad therapists who might cross that line.
What do you do, then, if a therapist says one of these things to you?
Run.
(Don't come to your next session. Immediately start looking for a new therapist.)
A good therapist might find you attractive or have a hard time with one of your political opinions—but a good therapist will never tell you that.
Most of the time, it's irrelevant and doesn't affect whether they can help you. And if it does, a good, ethical therapist will work with you to help you find another therapist who doesn't have this conflict.
And yes, sometimes your therapist might feel bored or distracted in session with you. They might get irritated. They're human, after all.
But still, it's rare—most therapists choose to become therapists because they're genuinely curious about people. And they also know when they react that way, it's just as often because of their own issues—or some subtle defense at play that is temporarily shutting off your connection.
A therapist's natural instinct is to explore, not condemn. Every feeling either of you experience in session is a clue—a step closer to the truth.
Only therapists with major issues will actually put you in a place where you have to deal with their attraction, anger, or boredom. It would serve no purpose for you and be totally self-serving for them.
It is worth noting, however, that even good therapists have bad days. Whether or not you're willing to give your therapist a pass for one bad moment of saying too much depends on you and how bad the moment was. It may be possible to talk it out and repair the relationship.
But if you find your therapist repeatedly oversharing in a way that makes you uncomfortable—especially if they keep doing it even after you tell them you want them to stop—your best bet is to walk away. There are so many good therapists that there's no reason to stick it out with a bad one.
What Are Boundaries in Therapy?
When your therapist says your session time is up, tells you they can't answer a question you've asked them, or declines an invitation to spend time together outside of the office, they're observing one of the important boundaries in therapy.
Boundaries define relationships, and the relationship you have with your therapist is defined by their focus on you.
By not turning the attention onto themselves during your sessions, your therapist avoids crossing an important boundary.
However, there's a way your therapist can share their experience with you that honors the purpose of your time together and doesn't cross an important therapeutic boundary.
That special exception is when they tell you how they're feeling in the moment in response to something you said or did.
Usually, if your therapist tells you how they're feeling about something you just said, it's because they believe it will illuminate an important dynamic in your life and relationships. They think it might help you get behind one of your defenses and see what lies on the other side of it. Or they believe it might help you see—and break—a pattern you're caught in outside of the therapy room.
When a good therapist does this, they do it with tact. They keep the focus on what it might mean for you and what it might help you change or do. For example, they might say something like, "When you talk about that, I feel this. From what you tell me, it sounds like a lot of people have this reaction to you. Would you be interested in exploring this with me?"
This is normal in good therapy, but it's still a little risky. A good therapist who means to help you see how you're unintentionally sabotaging yourself can, if they're not skilled enough, end up making you feel judged in a way that's hard to recover from. So, some therapists just don't do it.
What Should You Do When Your Therapist Won't Answer Your Question?
First, if you ask a question your therapist can't or won't answer, don't feel embarrassed. It's natural to want to know more about them.
But hopefully, after reading this article, you'll be able to understand why they might not want to answer your question—and that it's not personal. It doesn't mean they don't like you or don't think you have a right to know. They just want to preserve the relationship they have with you.
Be open to exploring this with them. Your therapist is likely to ask, "Why do you want to know?" While this might feel a little cheesy at first, especially if what you wanted to know wasn't really that deep, it can be surprisingly illuminating to explore your motivation.
Why Did You Ask That?
Maybe it's just that you're curious. But maybe there is a deeper reason you just asked your therapist that.
Maybe you both were about to get into a deep personal topic that's uncomfortable for you. Maybe you butted up against one of your defenses. Maybe on some level, you wanted to even the odds by making your therapist a little uncomfortable, too.
Or maybe you hoped that you could learn something about your therapist that would lessen the shame or embarrassment you feel. Maybe if you found out they're in the same boat, you wouldn't have to feel so bad about it. Maybe you were hoping to learn:
    If your therapist has kids so you can know if they've struggled as a parent, too.
    If your therapist is a similar age, because maybe they really mean it when they say it isn't too late for you.
    If your therapist had that same problem, because maybe they know how to fix it. Maybe they know how to fix you.
It's natural to make comparisons like these. And sometimes, your therapist will tell you what you want to know if they think it might help. But they might hold back if they feel like it would be a distraction. They might push you a little if they think you can go deeper than that.
Many of us secretly fear that there's something wrong with us, or there's a boat we missed, or that there's no hope of ever changing that. We don't want to believe it, but we can't quite set aside our doubts. Our suffering seems to be a mystery we can't solve.
You might go into therapy wanting to alleviate that doubt and uncertainty. You might hope that your therapist can tell you what worked for them so you can just follow the same steps they did, fix your life, and move on. You might hope that they can give you the answer to that inner mystery that eludes you.
You might just want to know that you're not alone. You might feel like if you knew that other people shared your secret struggle, you could accept it as something normal and it wouldn't bother you anymore.
But your therapist knows it's not that simple. They know that therapy takes time, and that feeling the pain is the first step toward healing it. They know there's freedom on the other side.
So, they might choose not to talk about their experience and to keep the focus on you instead. They might zoom in on that shame or pain you're feeling instead of dulling it with some distracting side talk about them.
The best advice we can give you is to be open to the possibility that there's more to uncover. Don't blindly trust your therapist, but give them the benefit of the doubt that they're not just being weird.
Give them a chance to show you that there's a reason they do the things they do. There's a reason they're sometimes silent or don't answer your question. And that reason is nearly always that it helps you go deeper than you can anywhere—or with anyone—else.
Conclusion
Therapy is meant to help you get to know yourself better. At best, talking about your therapist's life would be a distraction. It would miss the point of therapy.
There are exceptions, though. Your therapist might tell you something personal if they think it could help you get past a block in therapy, help you trust and open up to them more, or help you start talking about the thing you really need to talk about.
So, sometimes, your therapist may share that they've gone through something similar, have something in common with you, or understand and appreciate the same pop culture references as you.
But therapists have to be careful. Even if what they're sharing is appropriate and potentially helpful, it can also backfire.
Learning personal details about your therapist can make you feel less comfortable or cause you to trust them less. It can cause you to worry or to feel like you need to take care of them.
And then there are the things a therapist should never share. Good therapists won't say things that burden you with their personal longings, pain, or needs. They have their own therapist—or supervisor—for that.
Where Can You Find a Therapist?
Ultimately, when a therapist shares too much, it hurts you. It shuts you down. It eventually leads to an impasse. You may be able to fix it with careful repair work, or you may have no choice but to quit and look for another therapist.
So, to avoid that, your therapist will likely tell you very little about themselves. Hopefully, knowing the reason they share so little will make it feel less awkward. We hope it can help you embrace therapy and the opportunity it gives you to spend time with someone who doesn't ever need to make it about them.
---
Stephanie Hairston
Stephanie Hairston is a freelance mental health writer who spent several years in the field of adult mental health before transitioning to professional writing and editing. As a clinical social worker, she provided group and individual therapy, crisis intervention services, and psychological assessments.